Teachers Facing Unprecedented Levels of Student Mental Health Challenges
Survey of 500 teachers reveals the extent of wide ranging challenges experienced in classrooms since the pandemic
At Academy21 many of our learners come to us as they can no longer attend mainstream schools due to high levels of anxiety or other emotional needs. We've seen first-hand an increase in demand for services like ours and know that the whole sector is under pressure – especially since the pandemic.
Unfortunately, the waiting lists for CAMHS, and other types of services that assess and treat students struggling with emotional, behavioural, or mental health difficulties, are increasing and many services are stretched to capacity making it far harder to access. This leaves schools and teachers in a very difficult position. So, over the summer, we commissioned OnePoll to undertake a study to try to quantify and highlight some of the issues UK teachers are facing and to raise awareness of this growing trend.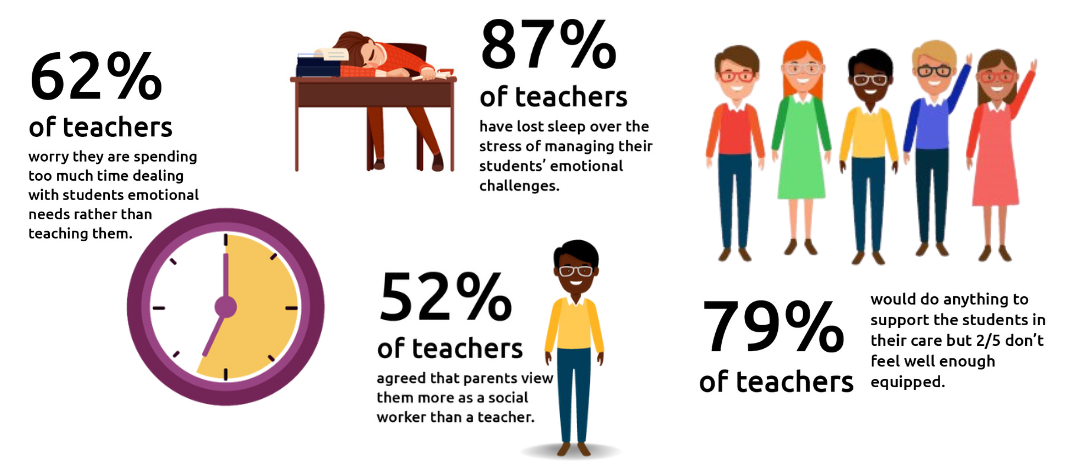 A sample of 500 UK teachers shared their experiences of teaching in this post covid world. One of the headline results from the poll was that more than six in 10 teachers worry they're spending too long dealing with their students' emotional needs – and not enough time educating them.
Out of the of 500 teachers who responded 52% believe they are seen as social workers by some parents but feel they are ill-equipped to deal with the additional responsibility.  And although a third have been trained in mental health and wellbeing, half of those say it's 'not why they became a teacher'. 
Whilst 79% of those teachers polled stated they would do anything to help the teens in their care, they feel they don't always know the right way to help a student who is going through an emotional breakdown.  Sadly 87% of teachers stated they have lost sleep due to the stress of managing a student's problem, while worryingly 41% are considering a new profession.
Ashley Harrold, Academy21's Executive Headteacher, said: "Teachers are in a difficult position.  The teaching profession has become more challenging over the years, particularly with a broad range of responsibilities now on the table.   It's clear a huge part of the role is now dealing with the emotional needs of students in class, which some teachers might have not anticipated in their career path. This has become such a problem for some educators that they are even questioning why they became teachers in the first place." 
The study also highlighted an increasing trend that the average teacher believes they spend nearly a quarter of the school week supporting children with mental health, behavioural or emotional issues with 75% stating they've taught a child who has had an emotional breakdown in school.
Other teachers have claimed they have invited parents to school to discuss a specific incident 45%, whereas 39% have made a referral to the head and 17% have sought advice from a medical professional.  However, 19% of those that responded feel out of their depth when it comes to providing emotional support to their students, while half don't think they have received the correct training.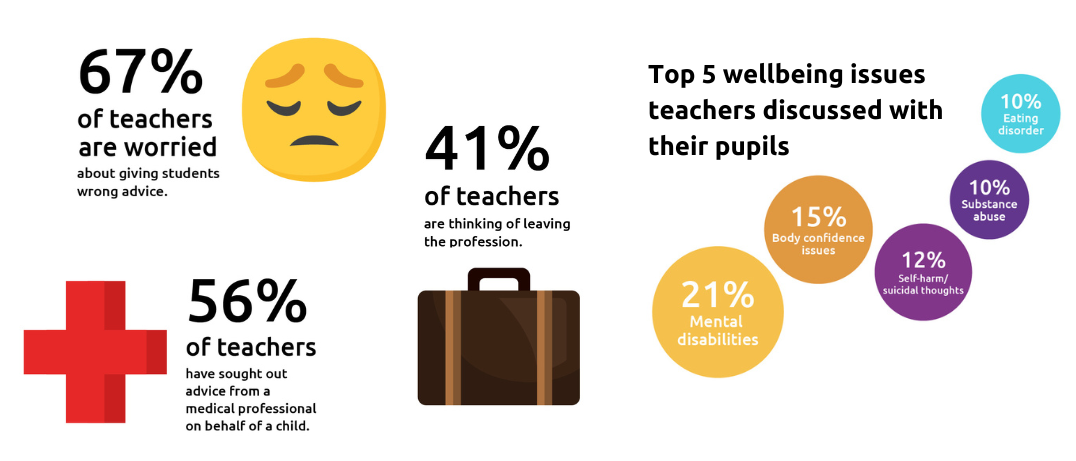 More than four in 10 feel the resources they have are inadequate and due to the increased demand on the teachers 33% don't have the time to focus on the emotional needs of the whole class.
A disturbing result is 67 % agonise about giving the wrong advice to children, with 56 % seeking advice from medical professionals on how to deal with those in need.  Nearly half of the group polled also claimed they were not expecting to deal with emotional challenges when they first qualified as a teacher.  The study also found 38 % feel tired when teaching their students and understandably a third feel stressed with the situation and lack of support from mental health services for children.
Jess Wesson, a teacher at a secondary school in Kent, said: "One of the hardest things about being a teacher is the never ending 'to do' list.  There is always something that needs to be done.  Outside of teaching all the time is taken up dealing with issues.  From the minute I walk through the gate to the minute I leave there is always some situation that needs to be dealt with."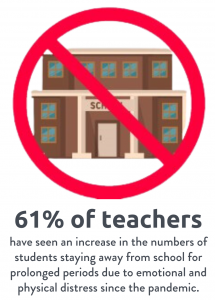 Mr Harrold added: "With the emotional levels involved in teaching and helping children in schools, educators are increasingly seeking ways to not only support their students but also manage their personal wellbeing.  That's why it is important to have the necessary resources available in schools to aid the education sector to dealing with the everyday challenges experienced." 
One of the most alarming statistics uncovered by the survey was that more than 77% of the teachers polled have also had to respond to a serious issue with a student, these issues have included body confidence issues (43%), self-harm (35%) and substance abuse (30%). While most involved in the education sector are aware of these increasing pressures on teachers, SENCo's and Safeguarding Leads these numbers are still shocking.
Finally, 61% of respondents said they have seen an increase in the number of students staying away from school for prolonged periods due to emotional and physical distress since the pandemic. Here at Academy21 we've been acutely aware of an increase in demand for our services but seeing these responses to our survey is still shocking.
At Academy21 we work in partnership with schools and Local Authorities to provide high quality teaching in a supportive online environment that can help anxious students to stay connected to their education, build up their confidence, and for many gradually return to mainstream schooling.
Our courses for Key Stage 3 and 4 help students to catch up with lost learning and even prepare them for GCSE exams. To learn more about what we offer and how we can help, speak to our team on +44 (0)1438 535001 or [email protected] or browse our curriculum information https://academy21.co.uk/our-curriculum/