Through flexible programmes and excellent teaching we bring a balance of pastoral support academic challenge, and educational engagement to 1000's of students with a broad spectrum of needs.
We can help you students with EBSA and anxiety, pupils who are disengaged or at risk of exclusion, vulnerable young people, those with chronic medial need, and the many more learners facing their own unique challenges.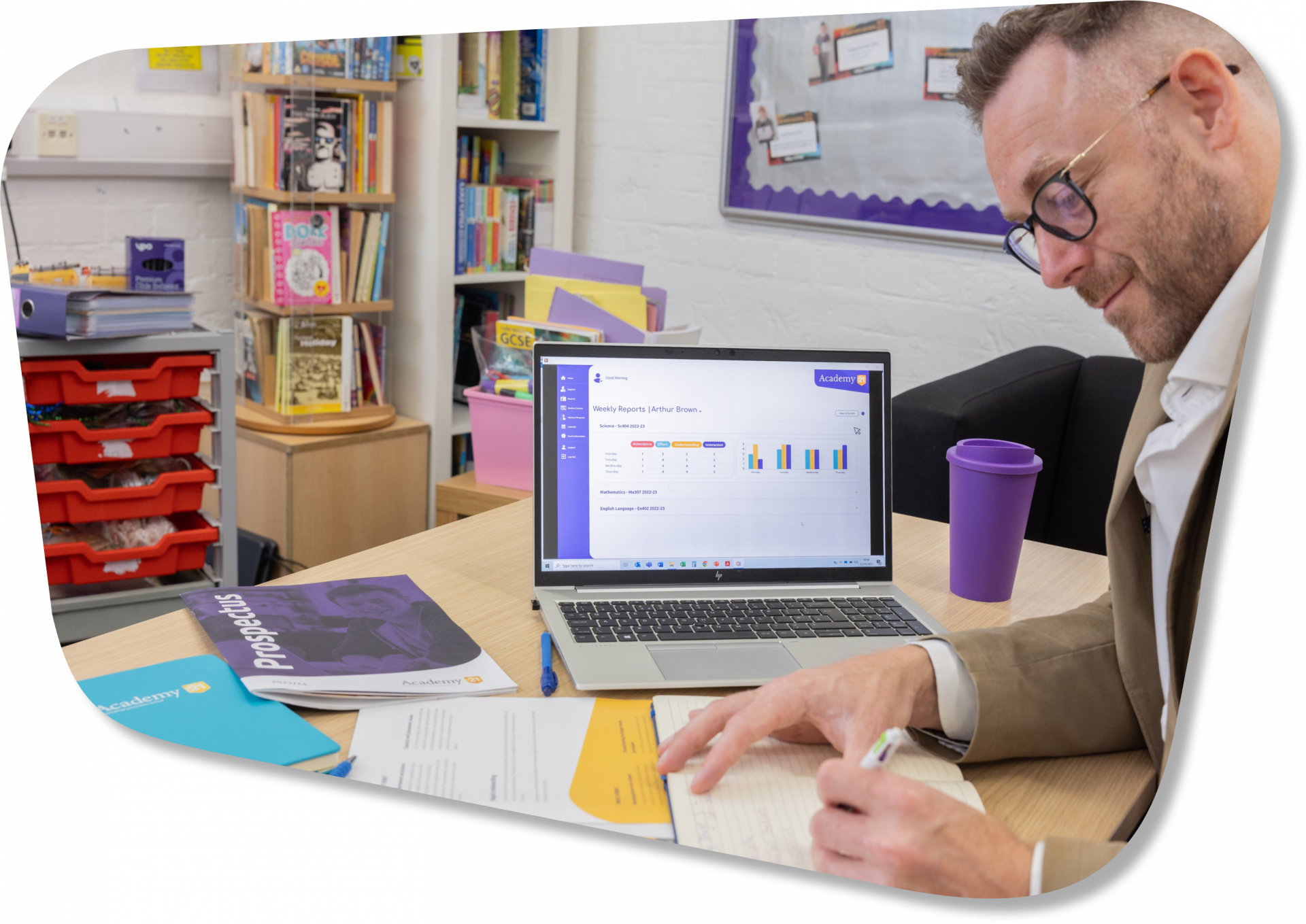 General questions
A student can be referred to Academy21 via Schools, Academies, Local Authorities, or other educational establishments, including groups e.g., Alternative Provision and Pupil Referral Units.
As a parent can I subscribe directly to Academy21?
Unfortunately, no, we can only be commissioned the student's current school or LA service. Should you wish to pursue this option for your child please speak to your child's school or local authority so they can do this on your behalf.
Where can I receive more information regarding the provision that is offered?
Please fill in your details on the 'get in touch' form and the Regional Partnership Manager will make contact to discuss your needs shortly. You can also download our prospectus HERE.
What contract options are available?
We have many different contracts available to suit your need for provision. Our Regional Partnership Managers will be happy to discuss these options with you, please get in touch HERE.
What is the minimum number of subjects that can be subscribed to?
We are fully inclusive and flexible so have no minimum number of subjects that you can study with us. We offer a range of subjects to meet students need and ability through a challenging, engaging curriculum.
How long is the enrolment process?
Within 2 working days. Once the contractual need has been established and a student enrolment has been submitted your student can be accessing the provision within 2 working days.
Do you accept students that are out of year?
We are flexible about following a 'stage not age' approach in line with our safeguarding requirements. Students up to the age of 19 may be accepted in Y11. Students joining out of their chronological year have their admission to Academy21 assessed by our panel. See the admissions protocol for more details.
How are students safeguarded during online lessons?
We have a strict policy around not sharing any personal information in lessons and never leaving students unsupervised: please refer to our safeguarding policy for details.
Are webcams used in live lessons?
No, we do enable students to communicate on mic with the teacher in break out spaces.
How can I obtain attendance records?
Via the mentor portal – refer to your RCA for guidance.
Do students require a EHCP to access Academy21?
At enrolment, we ask physical schools to share information about a student's specific interests, aptitudes and needs. This includes any details of any special circumstances relating to the student's health, allergies, disabilities, or special educational needs which may be relevant to their participation in the education provided by Academy21, for more information read our admissions policy.
How is progression reported?
Progress is reported though a range of methods – daily reports on effort, understanding and interaction; half-termly and termly reports with comments, predictions and grades. Students can also book tutorials and all work receives feedback. Teachers use a suite of methods such as in class assessment, low stakes quizzing and summative assessments to assess progress.
Benefits of Online AP for schools and other organisations.
Organisation and Administration
Online AP can be used to support learners at any time in the academic year. Students can join part way through a year and continue their studies. Academy21 manages the enrolment process and builds timetables for each learner to suit their needs. 
Continuity of Provision
Online AP can be implemented as a short-term solution or can be used to support pupils for much longer periods of time. Some pupils in particular need the stability that this type of solution can offer while experiencing periods of change or upheaval in their personal lives.
Flexible Support
Online AP can fit in around school timetables and be tailored to suit individual learners' needs. Ongoing monitoring and reporting, as well as regular communication with designated member of staff in the education setting means that provision can be adapted as needed.
Standard of Teaching
No matter where a student is based, they are able to access the same high-quality content. All students, regardless of location, attend classes delivered by experienced, fully qualified teachers who are subject specialists. This consistency of quality can be particularly useful for larger organisations who use Academy21 for pupils that would usually attend different schools, in different locations.
Reporting and Monitoring
Schools and Local Authorities can keep track of their AP pupils via online reporting and monitoring systems. Data can be easily accessed relating to attendance, engagement and progress.
A Partnered Approach
Online AP is often used as a solution for pupils to remain on their school roll and still feel part of the school community. Working together with Academy21 ensures that pupils continue to receive academic support while away from the school grounds. In many cases, this partnership approach can aid the reintegration of the learner back into mainstream education.
Education questions
Do students get homework?
Yes, there is an independent learning activity following each lesson in order to support students. This is a short, focused activity to build confidence and receive teacher feedback.
Are 1-2-1 lessons available?
All students can have 1-2-1 tutorials with their subject teacher periodically. Day-to-day lessons are taught in small groups.
How do you cover science practical lessons?
These are covered using simulations and video to ensure students understand the processes taught.
What texts do you cover in English Literature?
Please refer to the English Literature course overview on the mentor portal for up-to-date information on this year's texts.
How do you assess the English spoken language component?
Mentors let the head of subject for English know if they wish their students to be examined at Academy21: this is booked in on our system by mentors and assessed by qualified English teachers.
Exam questions
Who is responsible for exam entry?
Whilst we support students to be ready for exams, the commissioning school or Local Authority make the exam entry so it works for the young person and institution in their context.
What exam boards syllabus do you follow?
A range of exam boards: please see the exam information document on the mentor portal for up-to-date information. For prospective customers you can find out exam board detail HERE.
Does Academy21 support A-level students?
Academy21 can commission a A-Levels through our sister school King's InterHigh. With a broad range of A-Levels to choose from King's InterHigh can support and empower students to follow their passions and gain a solid foundation for a variety of higher education, training, and career paths.
What qualifications do students work towards at Academy21?
Academy21 provides GCSEs and essential skills qualifications. We offer regular reports on the academic performance of our students to both students and schools, which include their effort, understanding, interaction, and academic performance against subject standards.
We do not enter children into exams. The school in which the student is registered is responsible for entering them for any necessary exams, receiving their examination results, and having full responsibility for their academic outcomes.
As a result, schools are encouraged to provide feedback to Academy21 on attendance, engagement, and academic performance to support further evaluation. Public exam results for students who have spent time enrolled at Academy21 are available from the schools in which they are registered while accessing alternative provision at Academy21.
IT questions
What equipment is needed?
We recommend systems that meet or exceed the following specifications:
Processor (CPU): Intel Core i5, AMD Ryzen 5 or more powerful processor
Operating system: Windows 10 or Windows 11
Memory: 8GB RAM or more
Monitor/Display: 17″ laptop display or 21″ external monitor
Hardware: Wired USB headset and webcam
Network Connection: Wired internet connection with a minimum of 20 megabits per second download and 10 megabits per second upload
Minimum configurations
Note: The following lists minimum requirements that allow for network connectivity and other basic functions. If you are planning on purchasing a new computer, please use the recommended configurations above.
Processor (CPU): Intel Core i5, AMD Ryzen 5 or equivalent processor
Operating system: Up-to-date version of Windows, MacOS, or Chrome OS
Memory: 4GB RAM
Monitor/Display: 15″ laptop display or 19″ external monitor
Hardware: Microphone and webcam – either integrated into the device or as external peripherals
Network Connection: Wired or wireless internet connection with minimum of 10 megabits per second upload and download speed. The Reachability on this test should be Good or better.
We recommend you use a Windows PC or laptop, however, Apple Mac computers can be used. We are obliged to make our users aware that we are unable to support Apple Mac computers as fully as Windows computers. Macs also work with different file types to Windows, therefore, if an Apple Mac is used, users are required to use the Office apps or convert files to Windows formats before
All setups will require speakers and a microphone. We recommend the use of a USB headset which combines both headphones and microphone.
An office package – Students will have access to the online versions of Microsoft Office apps whilst they are attending the school. These apps can perform the majority of tasks needed for school work, but do have limitations compared to the installed versions. If students wish to use the installed apps, it is advised that a Microsoft 365 Subscription is acquired.
Adobe Reader is recommended, but an internet browser will be able to open these files if necessary.
Google Chrome (v110.0 and above) is recommended.
Adobe Connect is used for online classrooms. These work most efficiently when opened with the Adobe Connect application. The latest version can be downloaded from the Adobe Connect Downloads and Updates page.
For additional information visit our Computer Requirements page.
Can Academy21 be accessed on mobile or tablets?
We are currently not supporting mobile devices or tablet computers when using the King's InterHigh Student Hub. Development is ongoing and we look forward to offering this in the future.
What technical support is available?
We operate a Live Technical Support system which will allow you to contact the IT Service team with any technical queries. This system will allow you to chat with us over text, share your screen, or grant us remote control to help resolve any issues you may encounter.
How do I access technical support?
Students and Mentors may reach Live Technical Support from the Support buttons on their Portals. Live Technical Support is also available from the Technical Support button at the bottom of each page on the Academy21 website https://academy21.co.uk/.
What accessibility features are incorporated?
Adobe Connect features automatic real-time closed-captioning and freely-resizable on-screen elements such as text and images.
"Academy21 has been nothing short of amazing. The level of support and nurturing is invaluable to students who use the programme. I cannot recommend them enough."
Matt Nelson
Teacher, North West Kent Alternative Provision Service
"We have been majorly impressed with Academy21 Thank you for getting this organised so quickly; we have been majorly impressed with Academy21 and how efficient you all are, it is very much appreciated."
Kerrie Draper
Asst Headteacher: Behaviour & Attendance, Great Baddow High School in Essex
"I would like to say a big thank you to all the teachers at Academy21... It's been an incredible and certainly a very memorable two years for me being part of such an amazing school filled with the most loveliest people! Thank you so much for this truly sensational time. I'll never forget any of you!"
Danielle
Student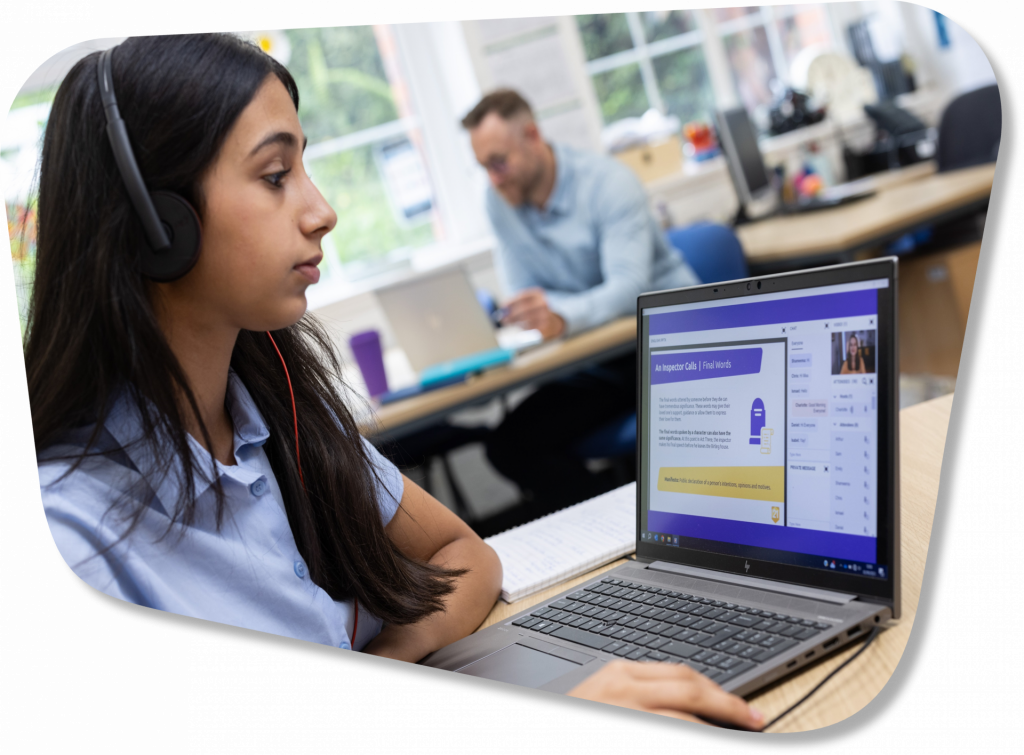 Read more testimonials