How Academy21 Helped One Incredible Student with Their Journey to Success
"I just wanted to say what an amazing service you provide and how much it helps the children for their future life. I hope you can continue to offer a spark of hope for others like you did for us."
– Linda, proud mum of Katy
Katy's Story: the Beginning
In her final year of primary school, Katy began getting headaches. Initially, the headaches would last for a couple of days but then they got worse and might last for a couple of weeks. Then the weeks turned into months.
By Year 10, Katy had missed a significant amount of school due to these debilitating headaches. She had huge learning gaps and was missing coursework. Katy's school attendance stood at around just 20 per cent.
That's when her school brought in the support of a local education authority adviser, who suggested that Academy21 might be able to support Katy's learning needs.
Katy's goal was to study medicine at university but without tailored intervention, this dream seemed unattainable.
Tailored Online Learning Support from Academy21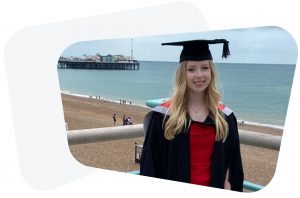 Katy and her parents recall the difficulty with which they took the decision for Katy to effectively leave her mainstream school and step into the unknown world of online tuition based at home. Although Katy officially remained on roll at her school, she didn't attend lessons at the school.
Tutors at Academy21 ensured Katy remained on track to achieve the 'A' grades she needed to enroll in a college course.
Academy21 tuition provided Katy with engaging lessons and regular interaction with her tutors. She received weekly reports relating to her interaction and level of understanding, which were also shared with her school and her parents. Homework and follow-up tasks always provided additional opportunities to embed or even extend the learning.
Talking at the time about making the switch to online learning, Katy said that an online school differed slightly from a real school because you don't have face-to-face interaction with people. However, as she pointed out, you still interact with others as you learn and Katy felt that working in Academy21 helped her social life.
"For me, it was about getting back into learning, getting back into interacting with other people and having a structure in the day."
– Katy
Katy's Journey
Katy's determination and drive really paid off, alongside the academic, structured learning support provided by Academy21. Some of Katy's tutors still work with Academy21 and remember her fondly.
"We talked lots about how you can get to where you're going as long as you're determined, prepared to be patient and find yourself some alternative routes. She was clearly all those."
– Sue Robinson, Science Teacher
Katy's mum, Linda, believes Academy21 really helped Katy to achieve her goals:
"Academy21 enabled her to get sufficient, good GCSE grades to move onto college. She then did 2 A levels over 3 years, and then 5 years study at University. Foundation course and a Masters of Pharmacy that she completed this year (can I say with a First?). She is now in her training year at a large hospital, loving her job and hoping to be a qualified Pharmacist next year."
How Academy21 Can Help Children and Young People Like Katy
As Katy's mum states, some learners just need 'a slightly different route' when it comes to their education journey. Mainstream education doesn't work for all pupils at all times.
Students like Katy who are struggling to cope with medical issues, while keeping up with their schoolwork, can feel overwhelmed and alone – particularly if little is known or understood about their medical condition. The Headache Team at Great Ormond Street Hospital have since made other young adults and their parents aware of Academy21's services, having seen the support Katy received and the impact it had.
"I am incredibly thankful that I had access to Academy 21. I wouldn't be where I am now without the support that I was offered through Academy 21. They were so important in not only allowing me to continue my education but also in giving me structure and socialisation back into my life."
-Katy
Academy21 can offer the tailored support individuals need, whether it's short-term or longer-term and support students to achieve their goals. For some, this may mean taking all of their GCSE or A-Levels with us, while for Academy21 can offer a short term solution that helps them back into their classroom.
"Looking back it was the best and most positive decision we could have made."
– Linda, Katy's mum