Latest updates to the Mentor and Student Portals

At Academy21, we're always striving to improve our platform and create a better experience for pupils and mentors alike. This year is no exception, and we have already launched several well-received updates since September 2022.
What's new?
New Tutorial Booking System (Mentor Portal)

Course Information (Mentor Portal)

Lesson Schedules

Interactive Lesson Content (Student Portal)

Lesson Recordings (Student Portal)
Mentor Portal Updates:  
New Tutorial Booking System
The tutorial booking system launched in November now makes scheduling tutorial slots simpler and more flexible than ever before.
Our tutorial system allows mentors to create a one-to-one session, these sessions are booked by the mentor for the student to attend. During these sessions the subject teacher can discuss with the student topics such as
Homework support
Subject related support
Additional learning needs
Help in navigating the system.
It is important to note, tutorial slots can only be booked by the mentor– students cannot book them for themselves.
Mentors also now have greater visibility of tutorial attendance and teacher notes.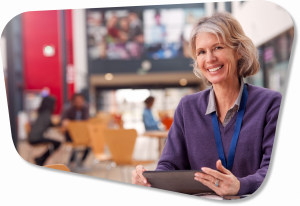 Course Information
At Academy21, we conduct regular customer satisfaction surveys to identify the platform improvements that will be most useful to you. In a recent survey, one of the key features our schools and authorities showed an interest in was course information.
We now have a helpful Course Information tab in the Mentor Portal.
Mentors can access the following:
schemes of work,
lesson resources,
assignments
All information relating to exam entries and those all-important exam codes can also be found under Reports tab in the Mentor Portal – this information is only relevant for year 11 (and possibly year 10 students) and can be accessed in the student tier groups.
Mentor and Student Portals:
Lesson Schedules
The new Lesson Schedules facility has been developed to ensure all mentors have visibility of reports/timetables/lesson schedules prior to a timetable being visible. Timetables are linked to registers and are only released on creation of a student record.
With this enhancement students and mentors can view all the details of scheduled pupil lessons before the weekly timetable is published. This includes subject and teacher names, start dates, and start and finish times. With quick access to this information, it's now even easier for students to plan their school days and for mentors to monitor interaction and engagement.
Student Portal Updates:
Interactive Lesson Content
In the Student Portal, you will find a rich and comprehensive Lesson Content tab, (this information can also be found on the student courses section on the mentor portal). , These activities are designed to engage students with their education and help them get the most out of the learning, the more Lesson Content activities students complete, the more they'll boost their independent learning skills, solidify their understanding, and strengthen their progress.
From the Lesson Content tab pupils can review their class content and access the additional resources which are a perfect support for exam revision during the GCSE's and A Level's, and a great way to consolidate learning or catch up on missed content.
Lesson Recordings
Last, but certainly not least, pupils can now catch up with lessons they've missed via video lesson recordings.
Our live lessons are the best way to learn, and our lesson resources are the most powerful study aids, so our recordings are not recommended as an alternative to attendance or as a main component of exam revision. Instead, they ensure that students never miss a moment of learning, even when they're unwell.
As always, Partnership Managers and the dedicated Client Service Team are always on hand to answer any questions about new and existing facilities, so don't hesitate to reach out for any support you require.